A leader with a vision
Patricia has always said it's not about how many deals you have closed. Ultimately, she wants to leave a legacy and know she has helped save millions of lives. Patricia has dedicated the last few years to bringing awareness to the global problem of human trafficking. They created the Sisters of Vengeance franchise alongside award-winning Director George Louis Monteiro. Starting with the short movie Sisters of Vengeance, which came out this Spring and, within a few months, won over 29 awards, nominations, and official selections from film festivals worldwide. Delinois is dedicated to making a difference in saving these children.
When one of the most influential and respected Real Estate brokerage companies in Miami assembles an elite team of over 175 talented real estate agents, marketing the most- anticipated new luxury residential, and commercial complexes and estates in S Fl history, everyone pays attention. Trendsetter real estate mogul Patricia Delinois founded this sought-after company. Delinois is one of the most powerful women in Miami.
Patricia's family relocated to Miami when she was 17, then shortly thereafter started in Real Estate at the age of 18. Patricia was buying, renovating, and flipping homes soon after getting her license. Delinois then co-founded a construction company to develop homes and buy waterfront properties. Patricia opened a very successful Coldwell Banker franchise in 1996, and approximately ten years later, she realized the trend had shifted to a more global market. To gain that international exposure, she switched franchises to Century 21. Patricia Delinois is now CEO of Premier Elite Realty, an international boutique agency in Miami with offices strategically placed in prime locations in Coral Gables, South Miami, and Miami Beach, with sister offices in Dubai and Argentina.
Patricia has served as a speaker on numerous Real Estate topics and lobbied for the industry on Capitol Hill. Patricia is a regular real estate expert who keeps us updated on CNBC. Patricia is a Real Estate TV Correspondent, speaker, bestselling author, and Real Estate Expert on NBC Universal and CNBC; Delinois was a cast member on the highest-rated new Real Estate TV show "Hot Listings Miami" by NBCUniversal.
Delinois is passionate about leaving this world a better place. She is co-founder of Loving Arms, a charity to bring awareness to the massive global problem of human trafficking- her team is also working on a new film, "Sisters of Vengeance " to raise awareness on the subject and help stop human slavery worldwide.
Delinois is also working on a new real estate TV show program with a new network. An artist at heart, Patricia loves the feeling of creating living art in the form of a residence. She loves meeting people and dealing with all the different kinds of personalities and cultures. Delinois is genuinely entrepreneurial in spirit; she co-founded TechieTitle.com, a high-tech referral services company. Patricia is also a social media guru. HotLifeMiami.com is an online TV show all about the movers and shakers of Miami.
Patricia Delinois was the 2012 Residential President for the MIAMI Association of Realtors, the largest Realtor Association in the United States, with over 50,000 members and the world's largest international council.
Delinois has served as a Director for the National Association of Realtors and the Florida Association of Realtors. Delinois also served on the 2014 Board of Governors for the MIAMI Association of Realtors. Delinois is a founding member of the elite prestigious Master Brokers Forum. Delinois has co-authored a book with best-selling author Brian Tracy, "The Ultimate Success Guide," where she wrote about winning over clients for life and having the King of Pop, Michael Jackson, as a client. He is also a co-author of "The Big Question" with Larry King and other authors.
Patricia Delinois always knew she was going to be in Real Estate. Delinois obtained her license very young and has been setting records since the beginning of her career. She admired her grandfather's work in New York and California, buying old hotels to rehabilitate, then turning them into trendy, boutique resorts that became a haven for celebrities and those "in the know." He owned a Real Estate company in New York, and discussions around the dinner table focused on transactions and investments. It was an excellent education. When Patricia earned her Real Estate license, she quickly broke sales records and chalked up honors and achievements. Today, she is one of South Florida's most influential Real Estate brokers. Patricia's commitment and passion to Real Estate has resulted in many years of success.
Delinois was born in Montreal, Canada. She speaks French, Spanish, and English and has been an ambassador to the MIAMI Realtor Association/ organization's international associations. She was named Broker of the Year in the South Florida BEST Awards, overseen by the BEST Board of Governors, comprised of representatives from the Builders Association of South Florida and The Miami Herald. She served yearly as National Association of Realtors Director, Florida Association of Realtors Director, National Association of Realtors Honor Society, and more. A firm believer in the importance of social media and technology in Real Estate, Delinois, known as the Miami technology Queen, has over a million social media followers on Pinterest, Facebook, LinkedIn, Proxio Pro, and Twitter followers between numerous accounts: @premiermiami @pdelinois and @premierelite @hotlifemiami and on Instagram over one million plus followers. Delinois has a robust client list comprising high-net-worth individuals, celebrities, and high-profile clients, including a roster of over 75000 significant investors worldwide. Patricia Delinois carries a long list of international clients who are successful in business and finds her high standards and impeccable credentials a perfect professional match.
Patricia has been an active member of the Woman's Cancer Association since 1992, past president of the Barton Ravlin Chapter, chair of the Silver Lady and Silver Angel Tea for six years, has served as a member of the Honey Shine mentoring program for young girls, Big Brothers, and Big Sisters. Delinois was recently elected as an active board member of the Jerome Golden Center for Behavioral Health of the Palm Beaches. Patricia has also mentored young women to become successful in their careers for over 15 years. Delinois has inspired numerous young women to prosper in their careers and helped guide them.
Continuously active in the community, Patricia is a non-profit co-founder to bring awareness and help stop human trafficking. A Board member of the Tico Torres Foundation since 2007, helping young children in need, and has served as a trustee member of the Greater Miami Chamber of Commerce, Coral Gables Chamber of Commerce and served as a Real Estate delegate with Enterprise Florida, traveling on trade missions with Governor Jeb Bush and other delegates to Brazil, Argentina, and Chile. Delinois has served as a trustee member of the Coral Gables Chamber of Commerce and has volunteered as "Principal for a Day" for numerous schools. Delinois is always active in the community and is on the committee for the Business Improvement District in Coral Gables.
To say Patricia's impact has been positively felt in the South Florida community would be the understatement of the century.
For more information, call her at 786-252-6288
Email her
[email protected]
visit: www.patriciadelinois.com, www.premiermiami.com, TagCrush.com, TechieTitle.com
Patricia Delinois
Premier Elite Realty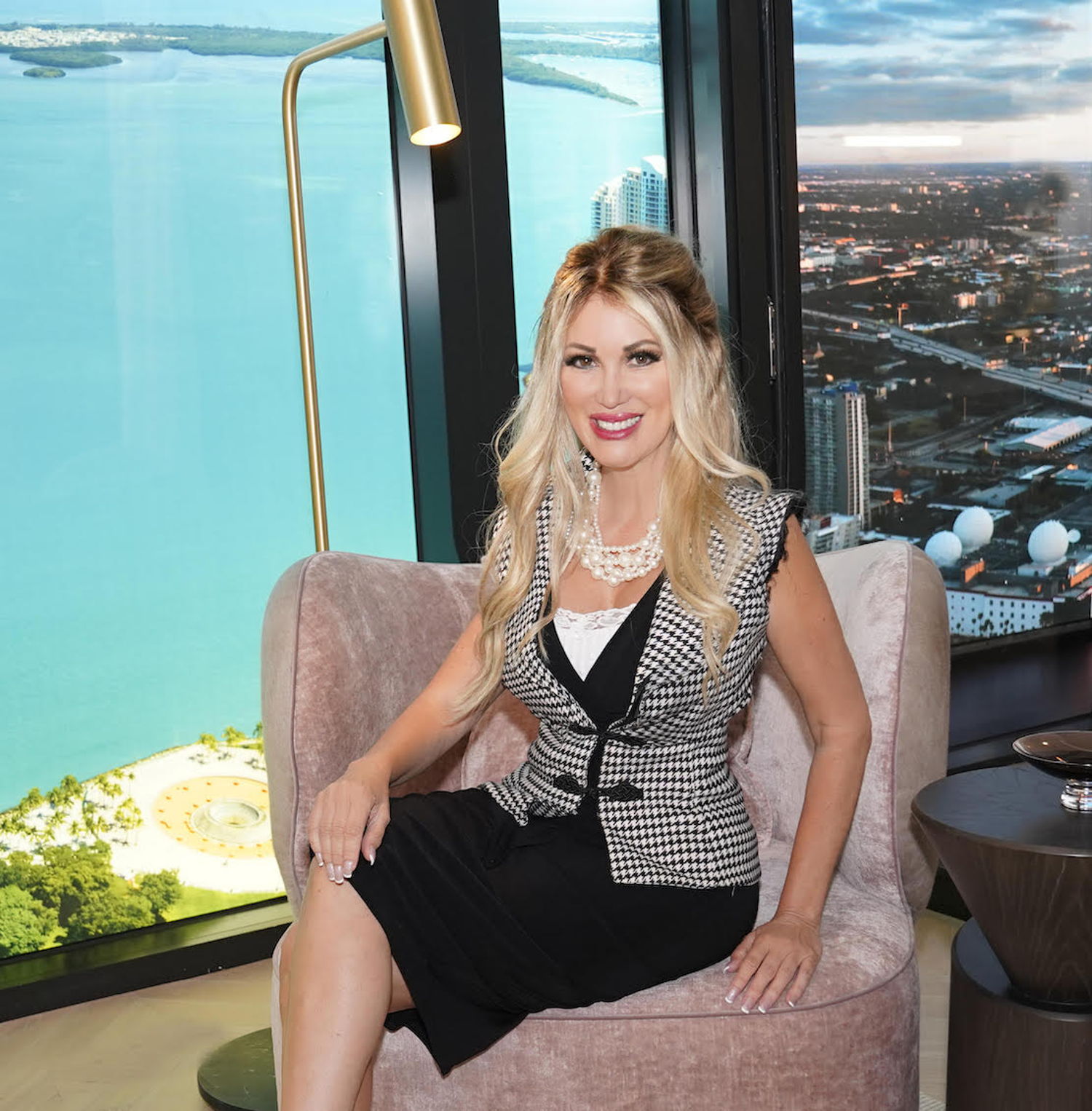 Sold on
3 beds · 3.5 baths · 3,134 ft²
A10996102
7400 Oceanside At Fisher Fisher Island, Unit 7435
7435 Fisher Island Dr, Miami Beach FL, 33109
Sold on
0 bed · 0 bath · 3,950 ft²
A10364226
Villas At Bridgeport Cond
2974 Bridgeport Ave, Miami FL, 33133
Sold on
5 beds · 3.5 baths · 4,015 ft²
A10992488
Coral Gables Riviera Sec
6510 Castaneda St, Coral Gables FL, 33146
Sold on
1 beds · 1 baths · 710 ft²
A10265737
null, Unit 911
101 Ocean Dr, Miami Beach FL, 33139
Sold on
2 beds · 2 baths · 1,322 ft²
A11214552
Marinablue Condo, Unit 3905
888 Biscayne Blvd, Miami FL, 33132
Sold on
4 beds · 2.5 baths · 2,851 ft²
A10999561
Woodmont Tract 64
7554 Black Olive Ave, Tamarac FL, 33321
Sold on
3 beds · 2.5 baths · 1,932 ft²
A11126856
Towngate North
2425 SE 19th St, Homestead FL, 33035
Rented on
2 beds · 2 baths · 1,315 ft²
A11187616
Marinablue Condo, Unit 3001
888 Biscayne Blvd, Miami FL, 33132
Sold on
null, Unit 13813-15
13801 S Dixie Hwy, Palmetto Bay FL, 33176
Sold on
null, Unit 13853
13801 S Dixie Hwy, Palmetto Bay FL, 33176
Sold on
null, Unit 13835
13801 S Dixie Hwy, Palmetto Bay FL, 33176
Sold on
null, Unit 13843
13843 S Dixie Hwy, Palmetto Bay FL, 33176
Your Leading International Real Estate Company
Client Reviews
Dave Bloom
Showed me homes or lots
Ashley was incredibly helpful and patient with all of my real estate questions and concerns. She understands the real estate market, does her homework and the most important quality of all – she followed up. She has so much passion and is caring in every way. I tell everyone about Ashley and wouldn't hesitate to reach out to her again.…
Linda Yates
Director of Education Foreclosure.com
"I was referred to Jay by one of the top real estate educators in the country whom I've worked with many times in the past. She told me "Jay is the real deal. You need to get him to teach his course on credit through foreclosure.com" That's all I needed to hear. Soon after that Jay Robins did a webinar for our subscribers that was extremely informative. So informative that I learned a lot myself and even shared some of it with my son. I encourage anyone who is thinking about working with Jay to do yourself and your family a favor and move forward with him."
Ro Ozdemirci
Vice President of Education Miami Association of Realtors
"Jay, Once again, I want to thank you for contributing to the success of our education programs for the Realtor Association of Miami-Dade County. All your seminars have been well attended and we look forward to having you back again with same, popular topics and new ones too. Jay, it has been a wonderful year for meeting and working with knowledgeable individuals. Keep up the energy"
Yoherle Hernandez
Helped me buy my home
It was a real pleasure to work with Estee as out realtor. I highly recommend her as a professional.
Dot Bast
Training and Development Manager City of Delray Beach
"Thank you very much for bringing your mortgage and real estate workshop to the employees of the City of Delray Beach. The response has been more then positive. Many attendees expressed their thanks that we were able to host the seminar and they all stated that they learned a great deal about all the topics you covered. As predicted several staff members asked if we could schedule a repeat so I will be contacting you soon about coming back to Delray Beach. We look forward to working with you again in the future. Thank you again for bringing such a timely seminar to our staff"
Sherry Clodgo
District Sales Manager The Keyes Company
"As the manager of a large office, I am constantly approached by speakers who desire an opportunity to attend one of my meetings and introduce their respective topics to the associates. I rarely grant access to the group as most of the speakers are promoting the same information. As a number of my associates attended a seminar with Jay Robins and were very impressed with his message, I requested that he speak at one of my meetings. The response from the associates was extremely positive and they felt that they could use the information immediately…some of them for their own financial situations. Jay's ability to communicate this valuable information in a professional yet entertaining manner made it easy to understand. He also offered support for any further inquiries. In today's environment, the information relayed was timely and useful. I would highly recommend Jay Robins for any seminars that you are considering."
Jason Schweriner
Sales Analyst at Southern Wine & Spirits
"I have been recommending Jay to friends and family members for mortgage and finance needs for quite some time. The feedback is always positive. He has personally advised me regarding my financial situation as well.
Gary Goldberg
BROKER-ASSOCIATE, The Infiniti Group At Keller Williams Realty
"Jay Robins is a most trustworthy individual. Having been a business associate with Mr. Robins on several occasions, it has been my pleasure to be his client and confidant. His knowledge and his dedication are very much appreciated and when you work with him, you will have the honor of experiencing it as well."A true professional in every aspect of the word. Jay Robins has the talent and knowledge needed in his field of expertise to ALWAYS get the job done right, the first time! If this recommendation on Mr. Robins is on a grading scale, then I would give him a 10+"
Curtis Olschansky
President / Broker, The Olschansky Group, LLC
"I have known and worked with Jay for several years. He has been an invaluable asset to me in many different capacities. He is a true professional and look forward to working with him again very soon."
Michael Freeling
Partner, Bloom& Freeling
"I have worked with Jay on several real estate transactions over the past few years and he has always been very responsive to all inquiries and excellent at moving things through smoothly from start to finish. He has non stop "energy" that he brings to whatever project he takes on and is great at coordinating and mobilizing a solid team to take on any task."
Brian Hartman
Real Estate Consultant and Investor, Harttwohart, LLC
"Jay has unbelievable energy and that coupled with his knowledge of the work that he does makes him an outstanding professional. Jay really knows how to wrap his emotions into his work having gone through tough times himself with the will and endurance to make it through. He utilizes real life experiences to the fullest and he truly has a tremendous heart. There is no doubt that I am grateful to have Jay in my corner."